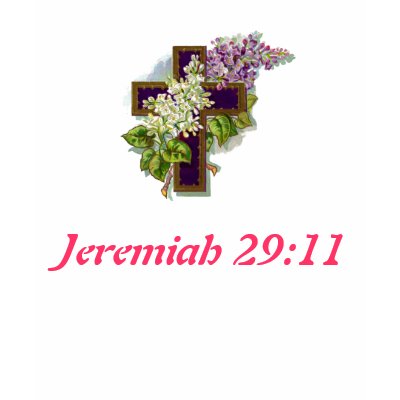 I have been thinking about this verse today, mainly because I am doing a sermon review where it was quoted. This tends to be one of the big verses that everyone has an affinity for, and it show up on coffee mugs and t-shirts and other trinkets. This also seems to be many people's "life verse" and this is the one they cling to in times of troubles or when they are despairing and when they are faced with trials and tribulations. It seems to function as a mantra, almost, as sort of a cornerstone promise that if they put their faith in it, and affirm it's eventuality, they will ultimately get through. That is one of it's uses. Another is by prosperity preachers and prosperity preacher-lite, who assure us that God has great plans to bless us and see us overcome our trials. They would say that God desires to see us wealthy and happy and debt free,  that more than anything he wants to bless us and heap upon us all sorts of material and relational excellence. Then there are the preachers who say that this is God's intention to the world at large, to the heathens and the pagans. They would say that this verse was meant for all of humanity, that God has good plans for them to give everyone a hope and a future-"So why don't you come up here and ask Jesus into your heart so you can experience those good plans and that hope and future and all those wonderful blessings he has for you?"
I suppose I could go on forever on this, but the point is that everyone wants a piece of this verse, and that this is always about them and for them and etc. There's only one problem with that; Jeremiah 29:11-13 isn't for them and neither is the rest of this chapter. This is not a verse that people can claim as a promise to them directly, nor is it for all people at all times. This chapter was written for a specific people, at a specific time, for a specific purpose. Allow me to explain. First of all, we see in the very first verse who the words are being addressed to, which are the elders, priests, prophets and captive who were exiled thousands of years ago. In verse 4 it gets even more direct when it says "Thus says the LORD of hosts, the God of Israel, to all who were carried away captive, whom I have caused to be carried away from Jerusalem to Babylon".  This should be our first sign that what is about to proceed is not for us, at least not directly. We cannot force ourselves into the context of what God is about to say, nor would we try to weasel our way in so that we can be the recipients of some beautiful words that God has for those people.
Not only were these words directed to this group of people at that time, but these words are also to a people under a specific and unique covenant that we can never be under. It is in the context of covenantal theology, to the Jewish covenantal people, who existed in a framework of direct punishments and blessings from God in relation to their obedience and disobedience. If they followed the law, God blessed them. If not, God purposefully sent enemies to kill them and their families and raze the lands and bring them low as punishment for their disobedience and harlotry. At this time, they were in exile because of the consequence of one of these covenant breaks, and it was a holy punishment from God. And so the context of these words in that respect give us even more reason for us to be excluded from this. The next verse is verse 5, and we see, unsurprisingly, that no one is claiming those words. No one living in apartments are reading verse 5 "Build houses and dwell in them; plant gardens and eat their fruit" and thinking to themselves that they must do that, that they need to get houses and plant gardens. They're not thinking "I have to get out of this loft and plant myself some carrots!" No, in fact they disregard that verse and that commandment from God- that directive, because they hopefully] understand that those are God's instructions for those people at that time, and not for them.
And here is the crux of the matter. Verse 11 starts off with the word "For". What does that tell us? That the preceding verses set the context for this one, and that this one is understood in light of the former. Its so disingenuous to start it off at verse 11 and not pay heed to verse 10, which explains how verse 11 is being understood. " This is what the LORD says: "When seventy years are completed for Babylon, I will come to you and fulfil my gracious promise to bring you back to this place. For I know the plans I have for you," declares the LORD, "plans to prosper you and not to harm you, plans to give you hope and a future."
Reading that should be enough for people to put the brakes on their use of this verse and carefully consider how it should be used and spoken of. To draw a comparison, it would be like hearing "After I take off your saddle, brush you down, and clean your hoofs and feed you some oats, I'm going to declare my great love and affection for you, over all the earth, so that the nations might see how blessed you are and how much I value you" and saying " Man….that guy really values me and blesses me." No. It doesn't work that way. You're not a horse, you're a man. Likewise you're not an ancient Jewish captive  exiled in Babylon and living under a covenantal judgement; you're a Christian living in the present age, and you have enough legitimate promises from God, and enough legitimate words and assurances of love and affection from Christ that you don't need to go off and try to jack those ones and pin them to your shirt.
Touching up on verse 12-14,  and including the last part of verse 11, we read "…. plans to give you hope and a future. Then you will call upon me and come and pray to me, and I will listen to you. You will seek me and find me when you seek me with all your heart. I will be found by you," declares the LORD, "and will bring you back from captivity. I will gather you from all the nations and places where I have banished you," declares the LORD, "and will bring you back to the place from which I carried you into exile." Again, right after the "money verse" is a direct reference that if and when these people seek God, he will bring them back from captivity where they were banished and killed, and bring them to that place they were  before they were exiled. I don't see anyone claiming that verse and trying to insert themselves into that footnote. Four verse later in 17 and 18 we see God saying "Behold, I will send on them the sword, the famine, and the pestilence, and will make them like rotten figs that cannot be eaten, they are so bad.  And I will pursue them with the sword, with famine, and with pestilence; and I will deliver them to trouble among all the kingdoms of the earth—to be a curse, an astonishment, a hissing, and a reproach among all the nations where I have driven them" It would seem that these verses don't work well as an embroidered wall-hanging, because I have never heard someone speak of God's wonderful and just and terrible wrath in the same way they do of the verses just a few sentences back.
The point is that we need to utilize extreme care when we take an individual verse out of context, and we need to ask ourselves how it would look if we did the same to other verses.  The takeaway from  passage like this is not God's totally awesome and radtastically cool plan for you, but rather God's radical faithfulness to His people [which translates into deliverance] even in spite of their unfaithfulness to Him [which always results in judgment from which they need to be delivered]–a common theme running through the prophetic writings. Of course, this [calling as it does for radical obedience, that is faithfulness, to God] is much more sobering than the well-meaning but ultimately vacuous high that a contextless Jeremiah 29:11 produces, and thus such considerations are not nearly as popular. Look- If Jeremiah 29:11-13 applies to you and all Christian, then by the same logic Jeremiah 44:27 should also apply to all Christians. It reads, "I am watching over them for harm and not for good, and all the men of Judah who are in the land of Egypt will meet their end by the word and by famine until they are completely gone." There's just no other way to look at it. 
I'm not saying that the whole chapter of Jeremiah 29 isn't useful or beneficial. Indeed, I think it is and monumentally so. While those promises are not for us directly, I think they serve as an incredible reminder to us of God's nature and character. Because we find these verses reflected elsewhere. In Deuteronomy 4:29 "But from there you will seek the Lord your God and you will find him, if you search after him with all your heart and with all your soul." in  John 6:37, "All that the Father gives me will come to me, and whoever comes to me I will never cast out." We know that Christ loves us, and has died for us, and that we are adopted sons of God and friends of Jesus and that there is a legitimate, deep relationship there whereby we depend on him and cling to his mercy. And we also know that for those who love God all things work together for good, for those who are called according to his purpose. Even the hard, painful, moments and seasons of agony and distress- there is assurance that God is working those things out to give us a hope and a future. And so I think if you're looking at those verses in terms of "These verses reflect God's character- that he had plans for his people to take them out of exile once he had finished punishing them . We see that as they turned to him, his wrath was assuaged and his mercy was on display, and his loving kindness was made manifest" And I definitely think we can and should appreciate the beauty of those verses, and give glory to God for them. But we don't step in and say that God was speaking those verses to us, in our situation, and that we are the objects of this particular proclamation. These are not promises to us.  These verses are not about us and for us, and because of this, unless we are ready to start accepting the other verses directly before and directly after these verses,  and unless we are ready to start accepting the whole chapter and book of Jeremiah as formative and binding on us, we're going to be deceiving ourselves. We need to start being honest, and looking at scriptures in an honest way, and not trying to be the center of every chapter or verse.